Be prepared during your next doctor's visit
Start the HAE discussion off right. This quick guide can help ensure you cover the points important to you.
Or download a general guide here.
WELL DONE; YOU'VE TAKEN THE STEPS TO GET THE CONVERSATION STARTED

How to use this guide
Take these responses with you to your next doctor's visit to help you get the information you're looking for and to ensure your doctor is prescribing the right treatment for you.
Convenience in the efficacy of HAEGARDA&reg
The right therapy matters. Haegarda is the HAE therapy that reduces attacks by 95%.* As a preventive therapy, HAEGARDA can effectively reduce the number of HAE attacks you experience.
With HAEGARDA, use of rescue medication was nearly eliminated by 100%†
You should always have HAE rescue medication available at all times in case of a breakthrough attack.
*In the clinical trial, the median reduction of attacks in people receiving HAEGARDA 60 IU/kg vs placebo.
†Median reduction in rescue medication use in patients receiving 60 IU/kg of HAEGARDA vs placebo.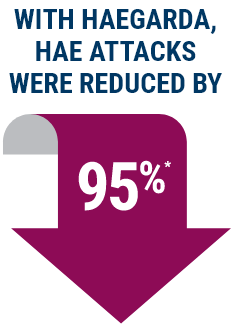 What could your life look like with fewer attacks?
You indicated that:
Ask your doctor about the benefits of preventive treatment for HAE.
In the past month, you have had .
Ask your doctor about a treatment option that may nearly eliminate the use of rescue medication.
would be more important for you.
Ask your doctor if your current treatment addresses the root cause of HAE.
Having is more convenient for you.
Ask your doctor about a treatment option that may significantly reduce HAE attacks.
It's for you to not have your day-to-day interrupted by an HAE attack.
Ask your doctor about a treatment option that may make 1 HAE attack a year* a reality for you.
*Median attack rate in patients followed over an average of 1.4 years.