HAEGARDA BRINGS ON STEADY

C1-INH

LEVELS IN APPROXIMATELY 2 WEEKS
With HAEGARDA, you know you're giving your body more of what it needs to keep C1-INH levels steady. HAEGARDA brings your working C1-INH levels back up and closer to normal in 3 to 4 doses, or about 2 weeks, meaning you won't have to wait too long for your peace of mind to kick in.
Discover the convenience of HAEGARDA. There is nothing more convenient than being attack free.
It may take a few weeks to get used to self-administration with HAEGARDA, and we're here to support you every step of the way through guidance and our resources from HAEGARDA ConnectSM. Over time, you'll find that self-injection becomes much easier.
HAEGARDA starts raising your C1-INH levels right away, after your first dose:
It may take 3 to 4 doses of HAEGARDA (or a couple of weeks) for your

C1-INH

levels to stabilize

Always be prepared with on-demand rescue therapy in case of any breakthrough attacks
Dosing individualized for you
Your HAEGARDA dose is based on your body weight so that your therapy is individualized to you
LET A SPECIALLY TRAINED HAEGARDA NURSE HELP
Start the discussion off right
Be prepared and ask the right questions. Use this Doctor Discussion Guide to help you get started and to ensure you cover all the points you need during your visit.
USE OUR GUIDE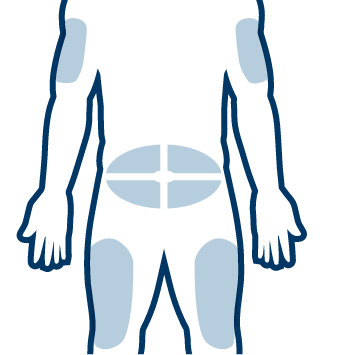 Choose from multiple injection sites with HAEGARDA
You can self-administer in your abdomen, or anywhere it's appropriate to give a subcutaneous injection, such as your upper arms and thighs.
Watch this video on self-injecting to learn more
Self-administration made simple
Highlights of the steps, plus tips that can help make self-administration easier
READ OUR GUIDE
A nurse is always available for you to ask questions
A HAEGARDA nurse can come to your home to help you get more comfortable with preparing and injecting your medicine, and to help you learn safe practices. Once you've been trained, you still have access to follow-up support from your HAEGARDA nurse, who can answer questions about self-administration on the phone, by video chat, or in person, depending on your preference.
You can reach the Nurse Hotline 24 hours a day, 7 days a week, at 1-888-599-1645 or learn more here.
Here are a few tips that can make it easier to start and stay with HAEGARDA:
Follow up with injection training
Through HAEGARDA ConnectSM, you can have a nurse come to your home to help you get comfortable with preparing and injecting your medicine, and to help you learn safe practices. This training is available at no cost to you at the start of your treatment. HAEGARDA nurses can train those diagnosed with HAE, parents, and/or caregivers.
Follow the injection prep and self-administration instructions
Getting confident with the process takes time.You can read the brochure or watch the self-administration video above as often as you like. Use this guide to assist in your infusions.
Create a routine
Take HAEGARDA at the same time and on the same days each week. Use a calendar, planner, or journal to help you track your dosing schedule.
Continue to take HAEGARDA
You should continue to take HAEGARDA as prescribed to prevent HAE attacks, even if you haven't had an attack in a while.
Keep it consistent
Because it's a subcutaneous injection, HAEGARDA keeps the level of C1-INH steady and effective between doses. Stay with it and track your progress and protection.