MANAGE
C1-INH

DEFICIENCY WITH HAEGARDA
HAEGARDA replaces missing or dysfunctional
C1-INH
Functional C1‑INH levels ≥40% of normal are proposed to reduce the risk of HAE attacks1
HAEGARDA replaces missing or dysfunctional

C1-INH

, which regulates the normal production of bradykinin
What made me try HAEGARDA? It's the same protein my body is lacking.
-Zahra, HAEGARDA Advocate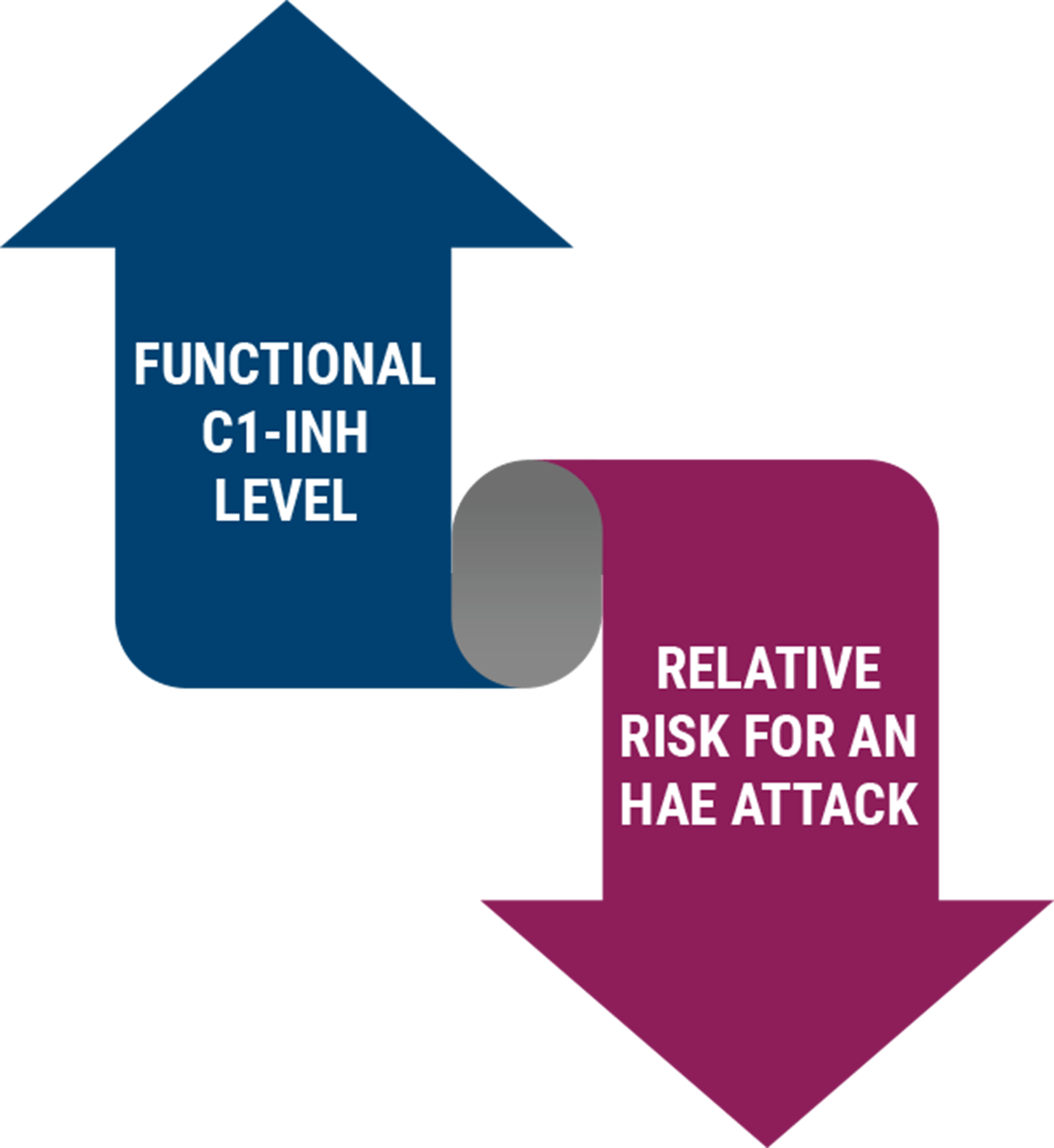 Subcutaneous
C1-INH

builds and maintains steady-state

C1-INH

functional activity2*
Administered subcutaneously, HAEGARDA 60 IU/kg maintained steady-state

C1-INH

functional levels above 40%.2
Steady state is expected within 3 to 4 doses2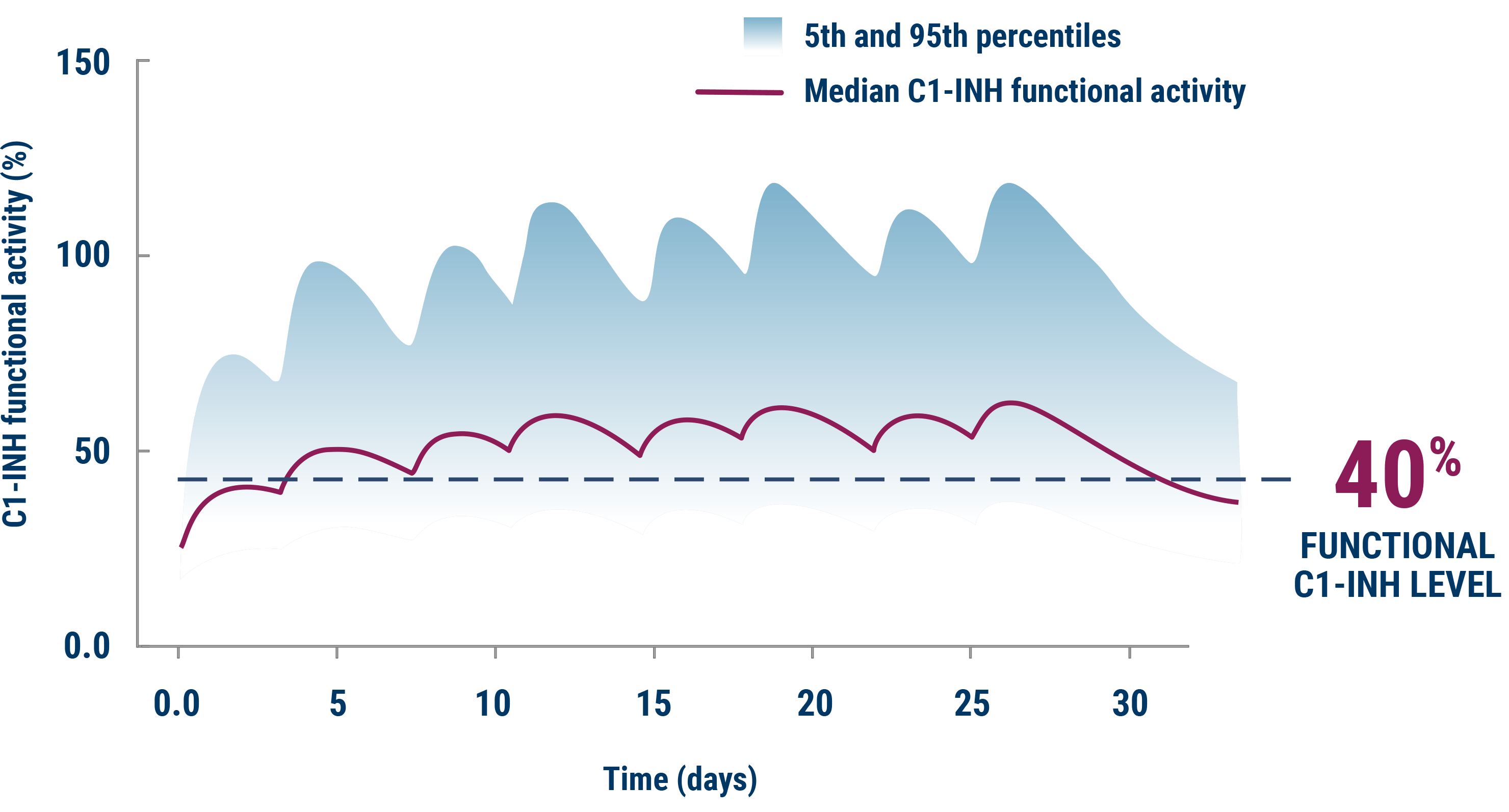 * The plasma levels of C1-INH functional activity were evaluated in patients with type 1 or type 2 HAE in a Phase 3, placebo-controlled, crossover study. Patients received twice-weekly subcutaneous injections of HAEGARDA 40 IU/kg or 60 IU/kg for 16 weeks. The model-derived outcome is the steady-state C1-INH functional activity vs time.2
ROOT CAUSE OF HAE:
DEFICIENT OR DYSFUNCTIONAL
C1-INH
3
Missing or nonfunctioning
C1-INH

is the root cause of HAE4
C1-INH

inactivates factors Xlla, plasmin, and kallikrein, thus preventing bradykinin overproduction5
Low-level of dysfunctional

C1-INH

allows bradykinin production to go unregulated6
Excess bradykinin increases vascular permeability, resulting in angioedema4
HAE with normal

C1-INH

levels and function is very rare; lack of pivotal clinical trials hinders ability to clearly establish diagnosis7
OVERVIEW OF HEREDITARY ANGIOEDEMA (HAE)
Epidemiology
HAE is rare: affecting ~1 in 50K individuals. (1 in 10K –

1 in

150K worldwide)8
HAE is an autosomal dominant genetic disorder resulting in deficiency (type I-85%) or dysfunction (type II-15%) of the

C1-INH

protein8
C1-INH—a serine protease inhibitor—regulates the complement, contact, and coagulation cascades8
Deficiency of functional

C1-INH

allows for uncontrolled activation of the contact system, resulting in increased vascular permeability and the classic symptoms of swelling8
Age of onset may vary
Symptoms may occur at any age, but initial onset usually begins during childhood or adolescence (median = 6 years of age). Fifty percent of female and male patients are symptomatic at 12 and 13 years of age, respectively9

HAEGARDA is now approved for adults and children 6 years and older
Symptoms
Unpredictable angioedema attacks of swelling in various body parts10
Debilitation due to extreme pain, vomiting, nausea, and, if the airway is affected, asphyxiation10
Patients may experience symptoms for 10 or more years before HAE is identified11
I remember the first time I went into the emergency room and the doctor said, 'You have HAE' and…it was such a load removed from my shoulders because it was a doctor who knew what I had, and was able to treat it.
Common locations of swelling8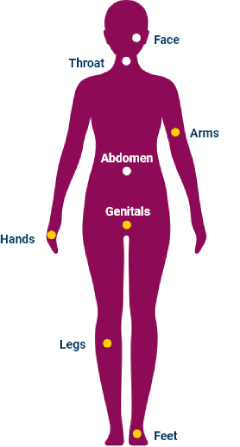 The World Allergy Organization (WAO) guidelines recommend the use of C1-INH for HAE for long-term prophylaxis.9
The WAO Guideline for the Management of HAE states that patients should have HAE rescue medication available at all times.9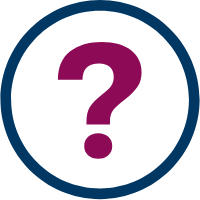 What Makes HAEGARDA Different
HAEGARDA is the HAE product that reduced HAE attacks by 95%.†
LEARN MORE
† Median reduction in the number of attacks with HAEGARDA 60 IU/kg vs placebo.
THE WORLD ALLERGY ORGANIZATION GUIDELINES RECOMMENDATIONS9
C1-INH

has been used for 35 years, and is the WAO-recommended first-line therapy
The WAO recommends

C1-INH

as first-line preventive therapy for HAE for long-term prophylaxis4

C1-INH

is the preferred therapy for pregnant or breastfeeding HAE patients
SEE THE SUPPORT AVAILABLE
FOR YOUR PATIENTS
To me, any therapy that replaces what you're actually missing and keeps it at a constant level, makes sense.
HAE TREATMENT GOALS FOR HCPs9
On-demand treatment goal‡
Minimize the duration and severity of an attack that has started

HAEGARDA is not approved for on-demand use
‡ Short-term or preprocedural prophylaxis can also be administered before an event that may trigger an HAE attack (eg, medical or invasive dental procedure).
Long-term prophylaxis (LTP)
treatment goals
Prevent attacks and reduce severity if they occur

Minimize the patient's burden of disease
World Allergy Organization/European Academy of Allergy and Clinical Immunology
guidelines on prophylaxis
"We recommend that patients are evaluated for long-term prophylaxis at every visit. Disease burden and patient preference should be taken into consideration. Evidence Grade D; strength of recommendation strong, 100% agreement."
References: 1. Longhurst H, Cicardi M, Craig T, et al. Prevention of hereditary angioedema attacks with a subcutaneous Cl inhibitor. N Engl J Med. 2017;376(12):1131-1140. 2. Zuraw BL, Cicardi M, Longhurst HJ, et al. Phase II study results of a replacement therapy for hereditary angioedema with subcutaneous C1-inhibitor concentrate. Allergy. 2015;70(10):1319-1328. 3. Weiler CR,van Dellen RG. Genetic test indications and interpretations in patients with hereditary angioedema. Mayo Clinic Proc. 2006;81(7):958-972. 4. Zuraw BL. The pathophysiology of hereditary angioedema. World Allergy Organ J.2010;3(9 Suppl):S25-S28.1 5. Kaplan AP et al. Clinic Rev Allerg Immunol. 2016;51(2):207-215. 6. Kaplan AP. Angioedema. World Allergy Organ J. 2008;1(6):103-113. 7. Zuraw BL. Hereditary angioedema with normal C1 inhibitor:Four types and counting. J Allergy Clin Immunol. 2018; 141(3):884-885. 8. Lumry WR. Overview of Epidemiology, Pathophysiology, and Disease Progression in Hereditary Angioedema. Am J Manag Care. 2013;19:S103-S110. 9. Maurer M et al. The international WAO/EAACI guideline for the management of hereditary angioedema– the 2017 revision and update. World Allergy Organ J. 2018;11:5. 10. Zuraw BL. Hereditary angioedema. N Engl J Med. 2008;359(10):1027-1036. 11. MacGinnitie AJ. Pediatric hereditary angioedema. Pediatr Allergy lmmunol. 2014;25(5):420-427. 12. Craig T, Zuraw B, Longhurst H, et al. Long-term outcomes with subcutaneous C1-inhibitor replacement therapy for prevention of hereditary angioedema attacks. J Allergy Clin Immunol Pract. 2019 Feb 15. DOI: https://doi.org/10.1016/j.jaip.2019.01.054.